Statement of the Jury:
Ahmed Umar demonstrates a strong commitment to traditions by way of craftsmanship. At the same time as he advances a perspective with deep cultural roots, in his art he unflinchingly confronts societal norms that make life unbearable for queer people and those with unconventional lives. Umar actively uses his own body as artistic material—his personal biography permeating his art, where individual lived experience is the driving force in an extensive liberation project. Umar is an aesthetic activist who both perpetuates and breaks traditions in works where accomplished and precise craftsmanship highlights wounds and victories, personal losses and struggles with adaptation and new culture. Simultaneously, Umar's work expresses great strength in its will to confront bullying, the threat of outsiders, and banishment to the outer edges of established norms. 
Umar came to Norway from Sudan as a political refugee in 2008. His art has been exhibited in a number of central art institutions in Norway and acquired by the likes of the National Museum, Drammen Museum of Art and Cultural History, and the Oslo Municipality Art Collection. His debut work from the Oslo Academy of Arts, Thawr, Thawra ﺛور, ﺛورة (Ox, Revolution), was made after the revolution in Sudan and purchased by the National Gallery.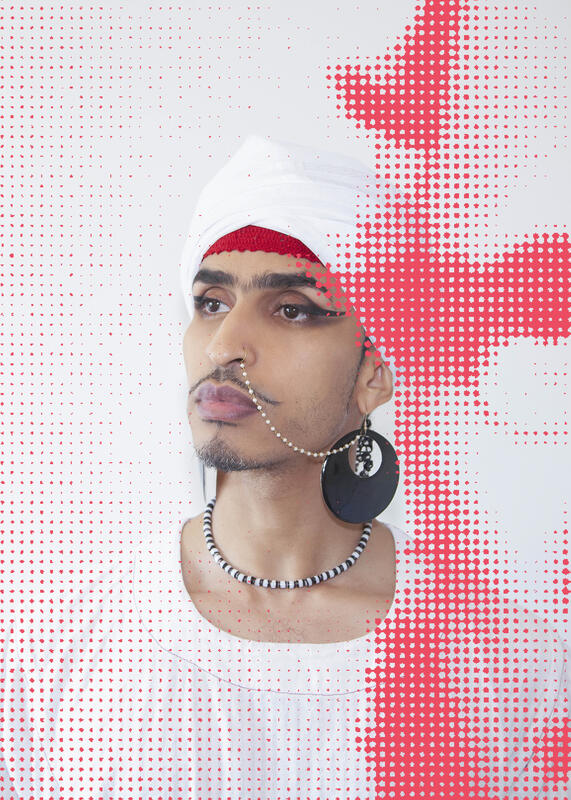 Bio:
Ahmed Umar (born 1988) is an interdisciplinary artist who lives and works in Oslo. He graduated from Oslo University of the Arts with a bachelor's degree in graphics (2011-2014) followed by a master's degree in Fine Art, department medium and material based art (2014-2016). From a material and form-related perspective, Umar's practice is broad. It breaks with stereotypical ideas of conservative craft practices that focus on a single material and forms. Instead, Umar uses stories as the basis for the works and chooses which materials are best suited to tell a given story. It is a materialist approach to art that recognizes that the materials themselves and their origin have an active meaning in the narrative. Umar emphasizes working with the materials rather than using the materials. His work is mainly based on stories and self-portraits that mix autobiographical aspects of identity, personal experiences and connections to the black pharaohs of the ancient kingdom of Kush, the Nubian Empire in Sudan, with both a modern eye and an optimistic vision for the future. Umar's work is characterized by his conservative upbringing in Mecca, Saudi Arabia and Sudan, and often highlights the consequences of existing outside social and cultural norms. He uses his personal experiences as a tool to discuss the concealment, demonization and alienation of queer lives in both Sudanese and international contexts.